Pankaj Jeena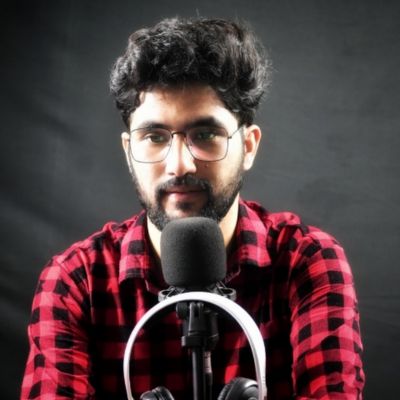 He is a storyteller who forges connections through his entrancing voice and lovely tales. He tells his tales on the radio, the stage, and other social media sites, including Facebook, YouTube, and Instagram. Every listener's heart melts when they hear his lovely voice. He has shown that hard work pays much more than resources when it comes to becoming successful. He is from the Nainital district, namely from the little village of Chopra.
His radio career began in Delhi in 2017, and he continued on to work in Dehradun, Lucknow, and Banaras. He has an excellent comprehension of radio thanks to his life experience.
He is now assigned to Banaras. Speaking of Banaras, it is a place where love, faith, and spirituality unite people.
He is a pretty bashful person in real life. He enjoys reading books a lot. He enjoys singing pahadi songs and playing the harmonium, among other instruments. His lifelong ambition is to serve as a storyteller. He writes about towns, cities, and middle-class families in his writings because he himself is from a middle-class family. His anecdotes and mellow voice help listeners identify with him.
 If you look closely, Pankaj Jeena is a storyteller and his life is a story.
Yahya Bootwala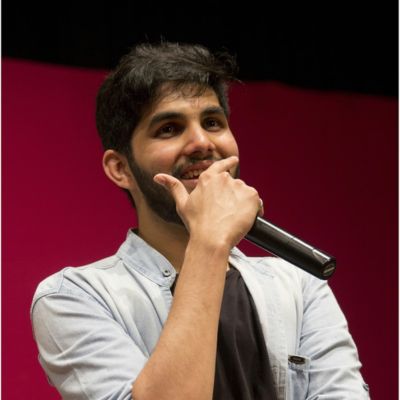 The 2017 poem Shayad Wo Pyaar Nahi by Indian actor and playwright Yahya Bootwala received a lot of attention on social media. Later, he had an appearance in Sheher Ya Tum, the 2018 MAMI Mumbai Film Festival's Best Short Film winner.
He began posting his poetry to Instagram, where he now has over 120,000 followers. Yahya had always dreamed of becoming an actor, so he began writing poetry, at first out of anger, but slowly it began to make sense, which brought him closer to his goal and his audience.
He describes himself as a secretive, reserved, and slightly immature person. Yahya believes that his passion for acting gave him the opportunity to openly express his inner lover, writer, poet, storyteller, and philosopher.
Goonj Chand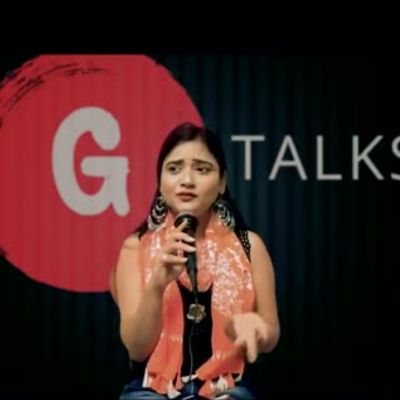 Indian actor, screenwriter, and dialogue writer Goonj Chand. She made her acting debut in the 2018 film Falooda, which is affiliated with her. The romantic comedy film is directed by Dheeraj Soni. The movie did good at the box office. Goonj began producing poetry and Shayari in both Hindi and English in 2018. She is a well-known poetess on Gtalk and Social House. She received recognition for her exquisite writing and won people's hearts. She even has a profile and regularly submits quotations to the YourQuote App. Goonj has also appeared in a few serials.
Rutwik Deshpande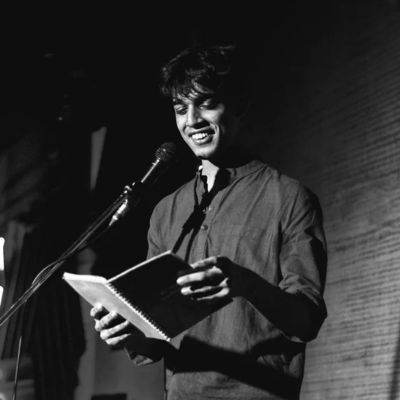 Rutwik Deshpande is a spoken word poet, actor, theatre artist, and filmmaker. He has written idea notes, stories, screenplays, stage plays, and poems in his capacity as a writer. He has worked in various commercials, short films, sketch comedy videos, and music videos as an actor with a background in theatre. He has worked as an assistant director on various commercial film sets.
Swastika Rajput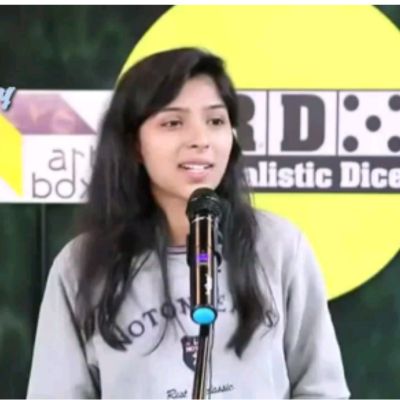 Swastika Rajput is a well-known social media star and poet. She was a well-known tiktok celebrity. In 2022, Swastika Rajput will be 23 years old. Swastika Rajput was born on March 29, 1999. Delhi, India is the home city of Swastika Rajput. Swastika Rajput is a well-known YouTube and Instagram personality. She has more than 200k subscribers to her YouTube channel and over 300k followers on Instagram.
On TikTok, Swastika Rajput received over 1 million and over 5 million likes. However, as is well known, many tiktok stars have joined Instagram & YouTube channels to entertain their fans since tiktok was banned in India.
Abhash Jha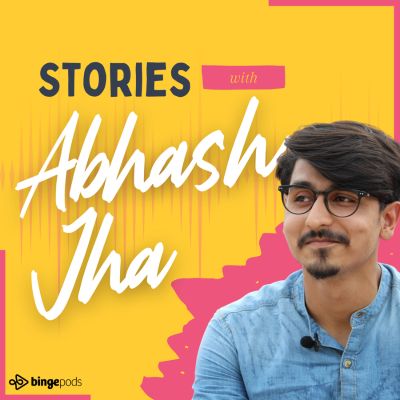 He enjoyed writing and singing from an early age and was talented in both of those areas. He started seeing other musicians upload their videos to YouTube at this point and had the urge to do the same. On his YouTube channel, a lot of cover songs and videos were published. He began singing and posting covers on YouTube when he was just in standard IX, at a young age. Sadly, it did not have much success. He was writing a lot at the same time that his interest in poetry was growing. But once the X standard began, Abhash had to devote himself solely to his studies once more.
He started writing songs again when he was in standard XI, but he was reluctant to show others his work because of his lack of confidence. A fellow music enthusiast buddy of his who was in college at the time was astounded after hearing Abhash's original song. He recommended that Abhash launch his YouTube account. Song covers began to appear often online. He then unearthed his old diary, where he had previously written humorous rhymes. He then started reciting poems on a new YouTube account that he had created. At first, they were primarily roasts and loaded with slang. He removed his YouTube page with song covers since he lacked the necessary equipment, such as a stand, camera, and editing abilities. Additionally, his "Rhyme Attacks" channel wasn't performing well either.
Nidhi Narwal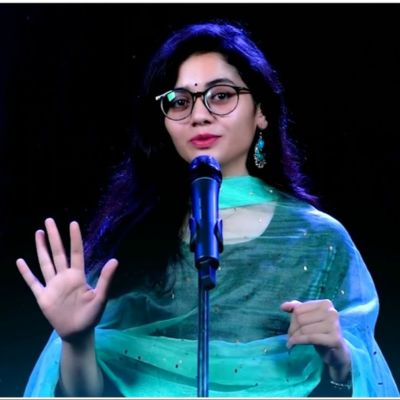 TikTok star Nidhi Narwal is well-known. Her birthday is August 20, 1999, and she was born in India. As a social media celebrity who became well-known for her own TikTok channel, Nidhi is also well-known. She has amassed more than 650,000 fans thanks to her original spoken word poems, lip-syncs, and dubs.
India is where Nidhi first appeared. On her Instagram page, she and Yahya Bootwala were featured together.
Krishna Singh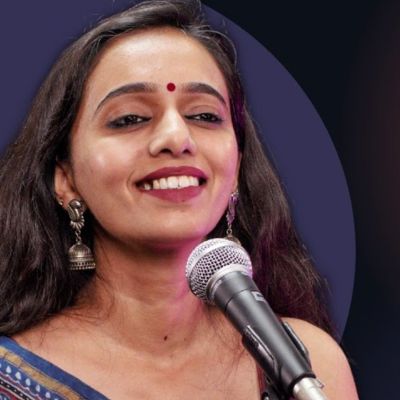 Star poet and storyteller Krishna Singh is currently a viral hit. She is in love with words, and through her words, we are made to adore love once more.
In an exclusive interview with Icy Tales, Krishna Singh discusses her life and poetry while knitting her poems with her broken words and the colours of her favourite sarees.  The poet of Spill Poetry remembers her past tribulations and childhood troubles while writing from the city of Jodhpur.
Poetry & Anxiety
Krishna Singh is aware of how difficult daily living can be when your entire body is filled with anxiety. The Spill poet discusses her nervousness and how she's making modest, slow-moving improvements through participating in Instagram Live and interviews.
Sainee Raj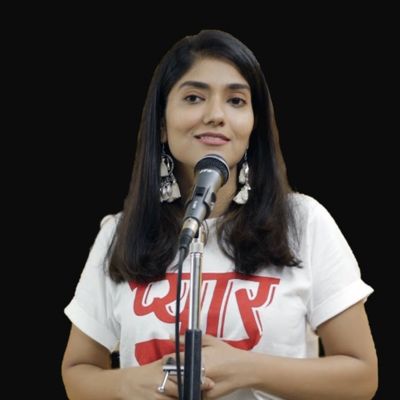 Sainee Raj is an Indian poet, playwright, and actress. Interior Café Night (2014), The Last Day (2015), Stories by Rabindranath Tagore (2015), and Shaka Laka Boom Boom (2000) are only a few of her published works. Sainee has appeared in a range of web-based comedic productions from companies like All India Bakchod, Filtercopy, The Viral Fever, SNG Comedy, and East India Comedy.
Biological Family
On February 21, 1992, Sainee Raj was born in Mumbai, Maharashtra, India. It is Rajkumari Vyas Budhrani who is her mother. Pooja Vyas is her sibling's name. She graduated from W.A. Science College and R.D. National College and has a Bachelor of Mass Media (BMM) degree.
Career
Sainee made her television debut with the serial Shaka Laka Boom Boom, where she was a well-known character. She played Ritu in the television series. Her skill as a screenwriter is evident in the short film Interior Cafe Night. In the year 2006, Sainee made her Bollywood debut in the movie Darna Zaruri Hai. She appeared in the films The Last Day and Traffic Signal. She appeared in the Hotstar Quix Hamara Bar Happy Hour in 2021. Sainee has collaborated with a number of well-known people, including Shah Rukh Khan, Gulzar, and Javed Akhtar.
Jidnya Sujata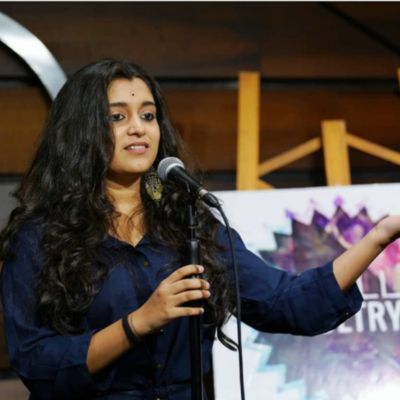 The focus of Jidnya Sujata's life is all things artistic. She performs as a singer, dancer, actor, and poet. She has a degree in advertising and is now pursuing a BA in Kathak. Her main objective in life, though, is to pet as many dogs as she can.
Helly Shah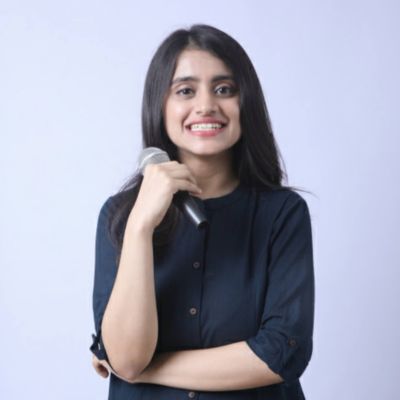 Helly Shah is a storyteller, author, and spoken word poet. She has performed at a variety of occasions, including the IIT Mumbai's Mood Indigo Festival and the YouTube Fan Festival. Her work has been highlighted on a number of prestigious websites, including Tape A Tale and Spill Poetry. Her poems and stories cover a wide range of topics, including love and life.
Priya Malik
Priya Malik is an actor, TEDx speaker, columnist, teacher, TV host (Big Brother Australia, Big Boss India), spoken word poet, storyteller, comic, and many other things.However, she is most importantly a writer and performer, and her most recent viral works, such as Right to Pleasure and Dear Mr. Player, are evidence of her unique voice. She uses both Hindi and English when she writes and performs.
She has already appeared on a significant amount of Indian television in the last 3.5 years since she returned from Australia (Star Plus, Colours, ABC News, Sab TV, Sony).
She has written and performed poetry for a variety of companies, such as the Malala Education Fund, Tinder, Alt Balaji, and Hindustan Unilever Limited. She has also been featured in prestigious publications and publications including TOI, Grazia, and Asian Age. She has also performed live at events like Spoken Fest, Soul Stage, and SheThePeople.
Some of the most popular spoken word platforms in India, including Tape A Tale, Kommune, UnErase Poetry, and Spill Poetry, have featured her work. She also composed and sang the most recent viral song. Anthem for Black and White Women's Day, seen more than 5 million times.
Uncensored News With Priya, which Priya hosts for TV9 Bharatvarsh, is the first spoken word poetry program on national television. It presents current affairs (political and social topics) in a poetic fashion. She also performs in the Paritosh Painter-directed all-female play Selfie. Priya's debut book with Harper Collins is scheduled for publication early in the following year. One verse at a time, she embarks on an unapologetically feminist quest.
Mehak Mirza Prabhu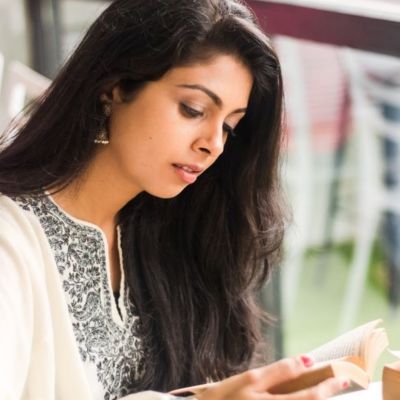 Mehak Mirza Prabhu, a Mumbai-born author and storyteller who writes in several languages, was born in 1982. One of her special talents is the ability to tell audio stories through voice modulations. She also runs an online storytelling school called "Jhumritaliaya," which is devoted to fusing the art form of traditional story telling with innovative stories that represent current trends in modern times. She is a blogger, script writer, and social enthusiast.
She used to be an entrepreneur, but she now works full-time as a writer, storyteller, voice actress, performer, and mentor. The Mumbai Theatre Guide recognised her story-telling performance "Zoya Ki Diwali," with music by Mohammad Muneem, as one of the "Top 10 theatre acts of 2017." Over 5 Million people have viewed her story "Phir Mohobbat Karni Hai," which was performed at an event hosted by "YourQuote" in partnership with Tinder.
Mohammad Muneem and she work together to give stories in duet form. They recently presented their story-telling act on child abuse at IIT, Bombay. They recently performed in Indore, and the Dainak Bhaskar wrote on their "Valentine's Day Special Set" performance. At a gathering in Jaipur, she performed alongside the renowned musician Piyush Mishra. She has been highlighted in several publications, including Bombay Times, Times of India, Being Indian, and The Logical Indian.
Her "How Story Telling Saved Me" Tedx lecture received a lot of positive feedback.
Rakesh Tiwari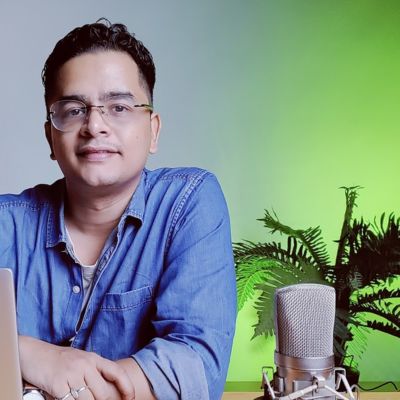 Author, Tedx speaker, and spoken word performer in Hindi for the past 5 years. Rakesh Tiwari is a firm believer in presenting poetry and rhymes that he finds in the mundane tasks of daily life. Over 50 different poetry collaborations with top spoken word venues have received over a million views.
Darshan Rajpurohit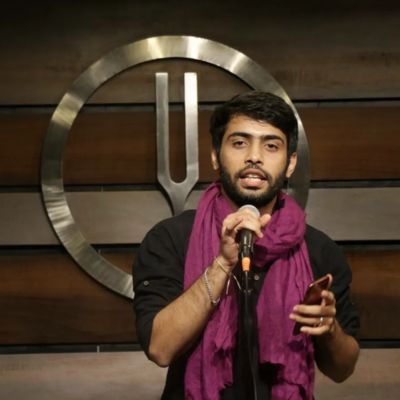 Originally from Mumbai, India, Darshan Rajpurohit is a contemporary Hindi poet, writer, spoken word artist, and Internet celebrity. He rose to fame after his spoken word performance went viral on YouTube and other social media sites. He writes about mythology and contemporary issues. Both India and Pakistan responded incredibly well to his poem Hawa & Ali. Digvijay Singh, the leader of the Congress and a former chief minister, thanked him for his work by posting some of his poetry on his Facebook page. After attending Blossoms Sunder Bai Thakersey English School, Darshan attended Rajiv Gandhi Institute of Technology in Andheri to complete his engineering degree.
He stated on a Facebook Live that after graduating, he will work in the export and import industries. He holds a degree in engineering.
Kopal Khanna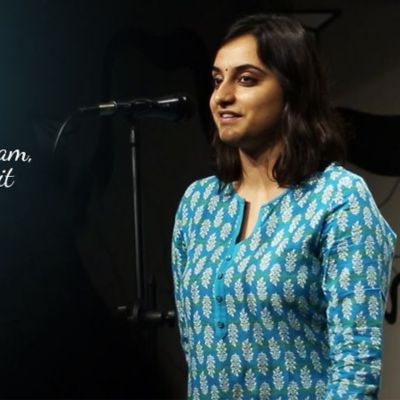 Speaking of her early years, she was born and raised in the imperial city of Lucknow before moving away for her undergraduate studies. She pursued a B.A. in history at St Stephens Delhi University before transferring to the London School of Economics to pursue an MSc in global media and communications. She then completed an MA in the same field at the University of Southern California.
She enjoyed learning new things and creating art in a variety of genres because she was a naturally curious person. She established Tape A Tale with the intention of pursuing her dream of being an entrepreneur and providing a platform for intriguing and inspirational stories for the world to hear because she enjoys writing, shooting, and reading.
She was fortunate that interest in poetry had grown over the years and that she saw a fantastic chance to launch this endeavour at the right time. She draws inspiration from Adam Braun, an American businessman who supports giving children in underdeveloped nations access to school. She also like Harivansh Rai Bachchan's poetry a great deal.
Amandeep Singh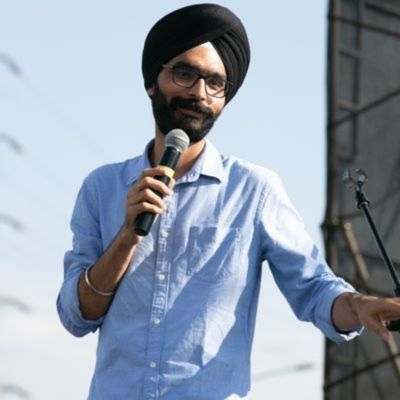 Amandeep Singh, a 23-year-old software engineer who graduated from KIIT, works for Accenture. He has won hearts with his skillfully crafted words as a renowned Hindi poet and storyteller by connecting with people in the most lovely way.
Kena Shree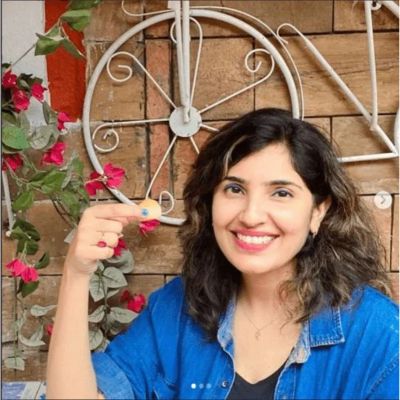 She is a writer of fiction, poetry, and HR/OB narratives. In addition to contributing to Cox & Kings, Hindustan Times, and Huffington Post as a columnist, she also maintains a personal blog with more than 2 lakh visitors. While she is still working on her debut novel, she has contributed to four anthologies that have been published.
Krishna Iyer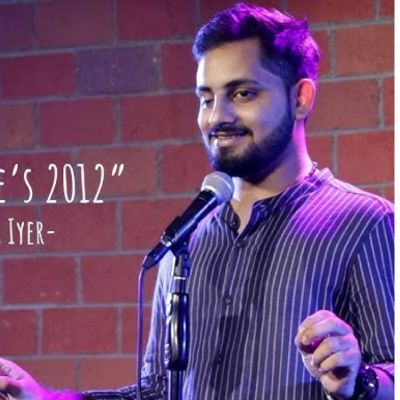 Krishna Iyer works as an office drone during the day and writes at night. In that order, he is a host, a storyteller, and a spoken word poet. He founded Pencified, a storytelling and performance poetry site, and writes under the pen name Pencified. He has performed at the Poetry Confluence in 2017 and has three times been featured for his stories on Tape-A-Tale.